Now ChatGPT Plus users can create personalized Chatbots using new GPTs beta service.
OpenAI, the artificial intelligence research laboratory, recently unveiled a new service during its first tech conference that allows users to customize their own version of ChatGPT, a popular chatbot platform. The service, known as GPTs, enables users to create chatbots tailored to their specific needs without requiring any coding knowledge.
GPTs can be utilized for various purposes across different scenarios. For businesses, it offers the capability to create custom chatbots exclusively for their employees. Parents can also utilize these chatbots to teach their children how to solve complex math problems. This new feature is seen as an evolutionary step from the Custom Instructions introduced in July.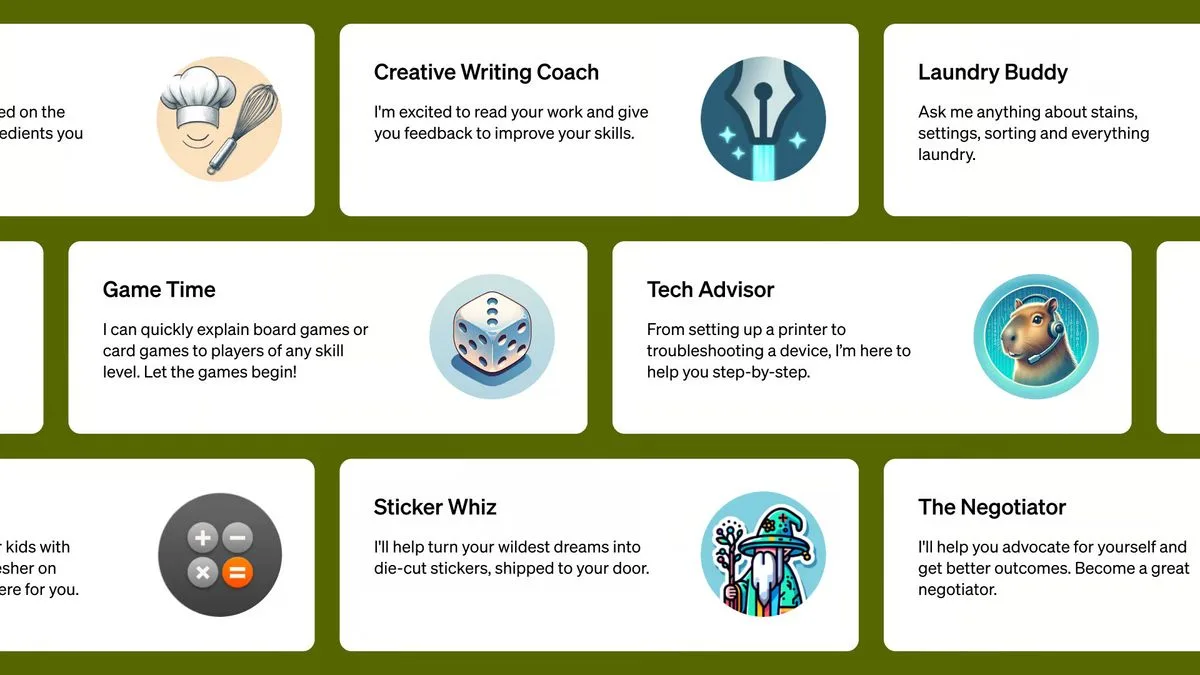 Creating a custom GPT model appears to be a relatively straightforward process. OpenAI CEO Sam Altman demonstrated the process at the conference. To get started, users need to subscribe to ChatGPT Plus for $20 per month or ChatGPT Enterprise for business users. From there, users can select the "Create a GPT" option in their personal account. The GPT Builder tool will guide users through the process of specifying their requirements.
The GPT Builder tool enables users to create AI models tailored to their needs. Users can preview their fledgling AI model on the right side of the screen. They can also add additional details such as the chatbot's name and thumbnail image. Further customization options are available, including uploading personal data files and integrating the DALL-E image generator.
Once the chatbot is complete, users have the option to save and make additional tweaks or release it to the public by sharing a link. OpenAI also provides support for select third-party services, allowing the chatbot to access data from sources such as emails and databases. In a live test, a developer demonstrated connecting their Google Calendar schedule to their custom AI using the Zapier tool, which displayed their daily meetings and highlighted scheduling conflicts. Third-party support is currently limited to Zapier and Canva, an image editing site.
OpenAI emphasizes user consent and security when it comes to data privacy. Chats between users and their personal GPTs will not be shared with anyone unless explicit consent is given. Users maintain control over their data at all times. However, OpenAI has systems in place to review user-generated GPTs to ensure compliance with company policies, such as preventing fraudulent activity, hateful content, or adult themes.
The GPT Builder tool is currently in beta and available to ChatGPT Plus subscribers. In November, OpenAI plans to launch the GPT Store, which will showcase chatbot creations by verified builders. Users will be able to search for chatbots across various categories, including productivity and education. Eventually, OpenAI aims to enable creators to monetize their chatbots based on usage.
This latest development from OpenAI is generating excitement within the tech community. It will be intriguing to see which chatbot creations rise to the top of the leaderboard on the GPT Store.
Stay tuned for OpenAI's upcoming releases and updates as they continue to innovate in the chatbot space.